tours
Perfect Nous avons passé 2 jours merveilleux grâce à Tee avec nos 2 enfants de 6 et 10 ans. Il a adapté les visites aux enfants, nous avons dormi dans un superbe village au milieu des rizières, et la randonnée du 2ème jour était également parfaite. Nous le recommandons vivement! Excellent conducteur et magicien en plus 🙂

Enjoy the Teexperience If you want to do a tour, learn about the nature and the Karen Tribe and have fun, Tee is your man.
The excursion started when we went to see the karen tribe, Tee Knows a lot about them and can explain it so clearly.

Then we went to a long walk on the jungle, long but funny, because Tee was always jocking, but don't trust on him when give you some fruit to taste, he said that is "sweet" and start to record with os phone…is a really funny trap.

We swim in a little zona too and then we have to be force to cross the river, Tee swim like a fish, so fast, only to laugh while recording us.

Honestly, the tour was one of the best i've ever did thank to Tee, he's so friendly and fun and you can see that he loves his job.

Thank you Tee, i hope we will see again 😊

Teexperience 🔝 La excursión de un día con Tee superó todas las expectativas. Llegamos de Bangkok para adentrarnos en la jungla y vimos paisajes que jamás hubiéramos visto sin él. Hace el camino súper ameno compartiendo conocimientos de las plantas, árboles, frutos y modo de vida de esta parte de Tailandia. Tiene un gran dominio del inglés y, además, ¡tiene un gran sentido del humor! 😄 Sin duda, fue un acierto contratar esta experiencia con él. ⭐⭐⭐⭐⭐

Des moments inoubliables Nous avons fait le treck de trois jours avec Q, le frère de Tee qui venait d'être tout récemment papa. Trois jours de bonheur à la découverte de la jungle et de la vie locale. Notre guide a été tout simplement merveilleux. Gentil, avenant, excellent cuisinier et excellent guide, c'est avec beaucoup d'émotion que nous l'avons quitté.
Durant ces trois jours, nous avons marché, seuls, dans la jungle, vu de splendides paysages, rencontré la gentille famille de Q et moment de pur bonheur, passé une heure avec les ...4 écoliers de la petite école du village.
Nous avons dormi dans un gîte, très sommaire mais conviviale, et sous tente. Q nous a préparé tous les repas sur des braseros Thaïlandais.
Nous recommandons à 100 %, 3 jours de pur bonheur.
The best memories! After a cancellation of people who should joined the excursion , I was only with Paeng , my sweet guide to do this 2 days trekking . I was traveling alone and I lived the most wonderful experience of my holiday: we were only with Tee's wife at night and I could share their life and I was so happy !! Paeng was my teacher during this trekking, explaining me a lot about plants , medicine and people life ! I meet Tee's family who are all so sweet, kind and I did have a lot of fun with his brother!! I meet people with a big heart and I'm very lucky to be able to share this experience with them ! I miss them and I want to thank you my little sister Paeng who was just wonderful!! Hope to see all of them one day and meet the future baby Francis !!😉 Don't hesitate to book this trekking with Tee's team if you want to have the best memories!
Trek jungle Thaïlande Très belle expérience. Nous voulions faire un trek dans la jungle profonde loin des sentiers battus et en petit groupe. Tee a su répondre à nos exigences et bien plus encore. Accueil super chaleureux chez lui et sa femme. Découverte de leur culture, paysages merveilleux. Toute sa famille a été au petit soin, et malgré quelques péripéties (entorse de la cheville le premier jour) Tee a su adapter notre séjour. Merci encore, que de bons souvenirs. Félicitations pour votre nouvelle vie avec Francis. Et nous le recommandons évidement !

Trek de 2 jours cascade et doi inthanon. Un très grand merci à kui le guide qui nous a fait decouvrir des cascades les unes plus jolies que les autres. Sa gentillesse, sa passion, sa patience. son écoute donnent de ces moments passés ensemble, l'impression d'avoir été en compagnie d'un ami de longue date. Bravo pour ces tours de magie et pour le BBQ.

2 Amazing days! We just came back from our trip with Tee and his brother. That was Amazing!! One of our best moments in Thaïlande !
Tee est venu nous chercher à notre hôtel, nous avons ensuite été jusqu'en haut des montagnes pour commencer la première journée de marche. Superbes paysages, anecdotes amusantes sur la nature, cascades et très bon repas de midi. Nous n'avons croisé personne. Le soir repas avec la famille de Tee. Le lendemain visite d'un autre village karen puis nouvelle belle journée : même scénario avec un peu plus de touristes mais seulement aux arrêts. Pour le reste on était seulement 3. Je vous recommande des chaussures de marche et des vêtements légers mais couvrants, j'étais en top et short dans les villages karen et un peu mal à l'aise.
Vraiment une expérience unique, loin des arnaques touristiques !

2 jours de trek avec tee et son frère Un super moment, entre balades majestueuses, rencontre avec les karen, tours de magie, énigmes et baignades. On le conseille vivement!

Immersion dans la vie locale Immersion dans la vie locala assurée. Vous allez vivre des moments inoubliables, authentiques et qui changent des programmes des agences classiques de tourisme. Petits moments de complicité avec Teeet sa famille.
THE BEST SELLER ACTIVITIES

IN CHIANG MAI
ELEPHANT TOUR
Elephant is the huge animal that we have seen and we offer this activities in Chiang Mai for you at Northern Thailand. At our elephant sanctuary you will take care of elephant ( No riding ) making medicines and feeding them, walking through the beautiful jungle, have fun with elephants bathing in the river, observing elephants freedom life, great photo shots while they are throwing dust & dirt.
Join us on our mission to rescue abused elephants. Our Elephant Sanctuary in Chiang Mai has been caring for seven years. It is our honor to share this most beautiful experience with you.
Our tours are great fun for singles, couples, and families. We guarantees an unforgettable, intimate adventure with our elephants in their natural surroundings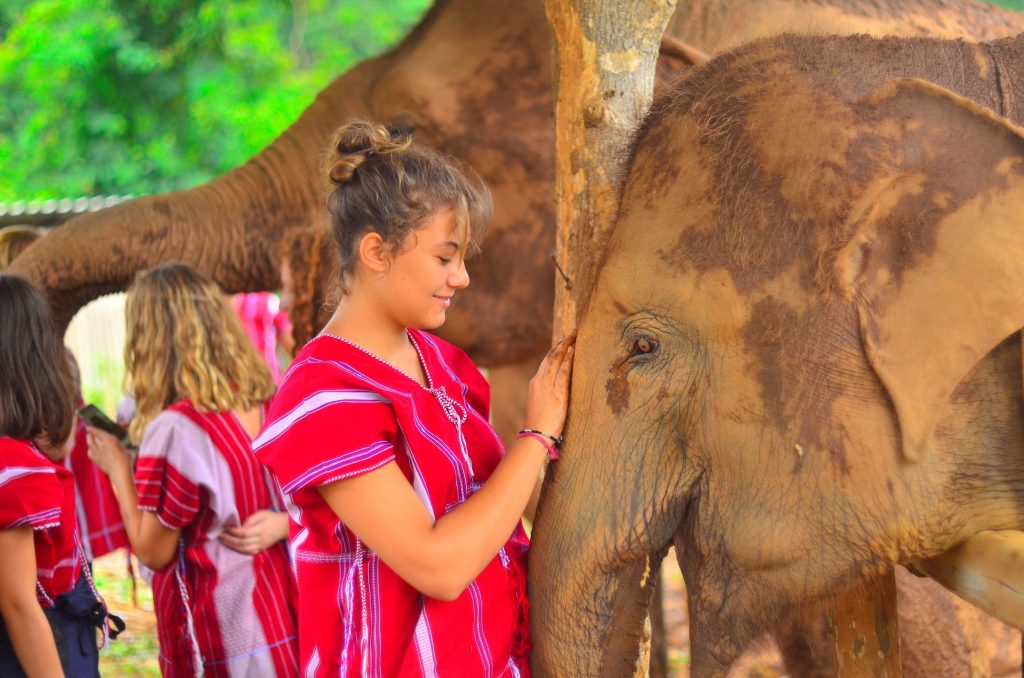 PA PONG PIANG ( The best rice terrace, unknow for foreigners )
The view of these stunning rice terraces is best enjoyed, relaxing, which is perfect moment to be here. The best time to visit July-November ( rainy season).
Pa Pong Piang is the best secret rice terrace in Chiang Mai. It might be complicated to get there because there is no public transportation and you have to pass the national park ticket get there. Pa Pong Piang is the rice fields of Karen hill tribe, there are lots of mountains in Doi Inthanon national park. In the area you see called Mea Chaem. It is a peaceful place in the located of Karen village, the guide can take you to explore the village, learn about their activities and simply lifestyle.
There are many rice terraces pictures spots to be visited in the area. The Best is to spend the night over in one of the village and really take time to visit around. Local accommodations are limited; you have to contact us before booking a tour with us and we will confirm to you again.
Ban Pa Pong Piang is located about 121 kilometres from Chiang Mai city (2.30 hours' drive). It is best to get there with a 4 wheels truck as there are no public transportation to the village. This destination is fast becoming popular with Thai tourists, but still little known to foreign visitors. It will soon become one of your best souvenirs from Thailand.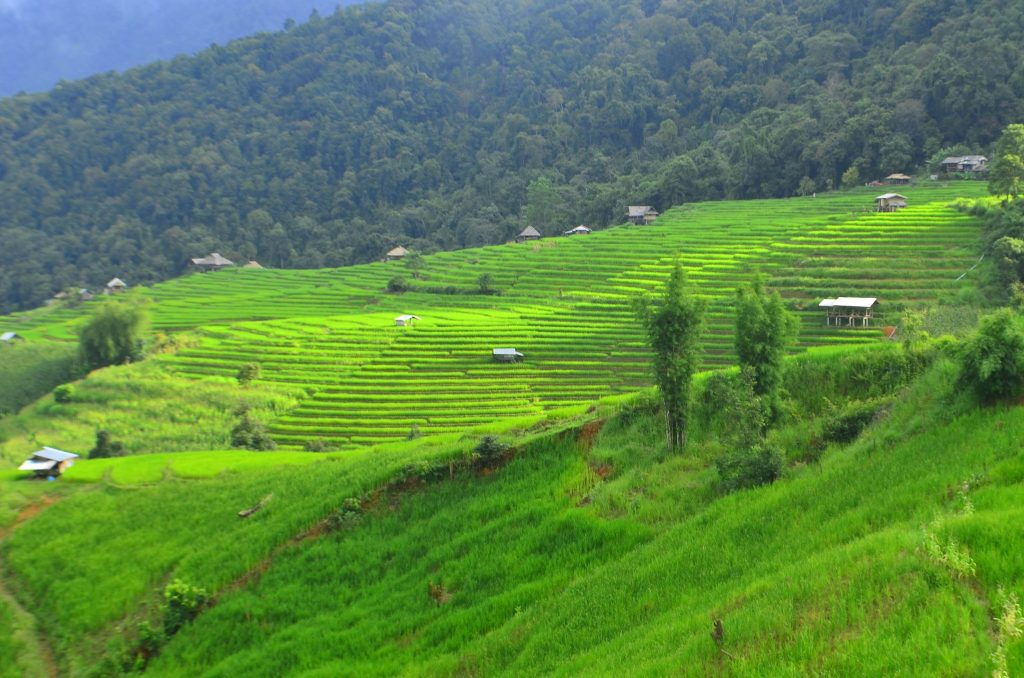 KEW MAE PAN NATURE TRAIL
Available months for tour = January to May, November and December. Click to book
Kew Mae Pan Nature Trail is a must-do hiking and trekking trail not to be missed by nature lovers. It is located inside the area of Doi Inthanon National Park, home to Thailand's highest peak.
Visitors to the National Park should include visiting this trail on their itinerary because the reward of hiking this short distance (2.78km) natural walk could be the most beautiful panoramic view you will ever see in Thailand.
This green highly-rated trail takes about 2-3 hours to finished and suitable for beginner level hikers. However, it is not recommended for people who cannot climb stairs because some trail parts require uphill hiking.
The trail sits at 2,200 meters above sea level, just a few hundred meters below Thailand's highest peak (2,565 meters). Take note that Doi Inthanon National Park is opened all year but Kew Mae Pan Nature Trail is closed from June to October i.e. the raining season.
Kew Mae Pan is a circular hiking trail, meaning visitors will go all the way right back to the starting point led by the Hmong guide. The walking trail can be divided into 3 stages, consists of a total of 21 stations. At each station, there is an interpretive sign in Thai and English language explaining different landscape and ecosystems of the trail.
The first stage is a dense cloud forest walking trail (station 1 – 6) full of moss and ferns. The evergreen forest is a watershed area because of its key role in trapping moisture in the cloud. One can hike slowly enjoying the cold fresh oxygen from thin air. Trees are high but not thick, struggling to get light while the cloud regularly hits the mountain and soaks the whole forest with high moisture. Mae Pan Waterfall is at station 3.
The second stage (station 7 – 14) is a walk through the scenic open grassland whose bright sunshine is warmer than a walk in the forest. This wide area changes colour from green in raining season to beautiful golden brown during the dry season. Station 9 is the panoramic viewpoint to take "that" breathtaking mountain view shot and where early risers waiting for the beautiful sunrise.
Depending on the weather, the visibility could be a clear sky mountain view or trapped in a mountain covered with mist, sometimes with a magnificent view of sea of cloud. If you want to catch the sunrise, it starts at 6.40 am and sun fully out around 7.00 am.
Upon station 9 is the start of opposite direction. Station 12 is an area where the pathway is narrow between two slopes (i.e the ridge, or in Thai "Kew", hence the name). On the left is where the sun is shining with the slope falling into the green and dense forest. On the other side, it's a moist forest where the mountain just drops into a plunging valley that merges into other valleys.
Between station 14 and 15 is the point where the King and Queen chedis i.e The Pra Mahathart Napamaythaneedol Chedi and the Pra Mahathart Napapoommisiri Chedi can be seen.
From station 15 is the last stage where we are back into the forest again. The temperature in the forest is a few degrees lower than outside and it could fell to as low as 0°C during winter time (December – February).
Near the end of the trail, there is a podium at station 20 for visitors to rest while enjoying the sounds of nature. You can hear the sound of the wind and birds singing like a band and lapping water sounds.